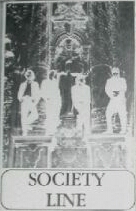 After graduating high school in San Diego, Robin Proper-Sheppard, Jimmy Fernandez, Ron Austin, and Albert Amman formed Society Line.

After a couple months, they recorded a six song demo and began playing locally, developing their rough sound into a bracing mix of metallics and atmospherics. Despite the musical progress, Proper-Sheppard became increasingly restless in San Diego and opted to move to New York.

The remaining members continued to play together and thought of replacing the singer/guitarist, but Proper-Sheppard returned months later to see if his ex-band mates would be willing to join him back in New York. Amman was the only member to stay behind.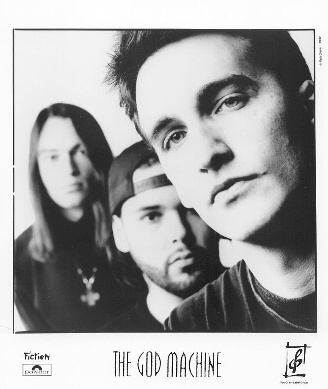 Through numerous turns of events, the trio ended up in London. Somewhere along the line, they changed their name to The God Machine and played their first official gig in early '91.

After a debut EP for Eve, the band signed to Fiction and released two more EP's in 1992.

The full length 'Scenes from the Second Storey' appeared in 1993, featuring remakes of four tracks off the earlier EP's. A monstrous double record, it's (un)holy racket and scope serves the band's name perfectly.

A year later, the GM had completed recording and mixing a follow up LP when Fernandez fell victim to a brain tumour. Saddened and devastated, Proper-Sheppard and Austin opted to call it a day.

The sessions for the fine second album, 'One Last Laugh in a Place of Dying', saw release in 1995.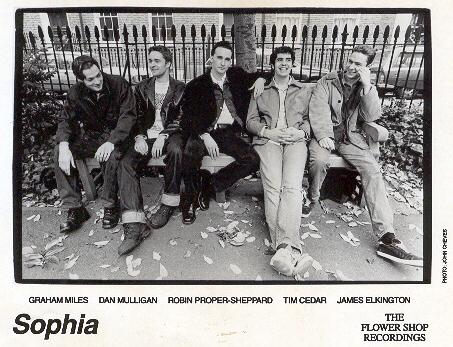 Proper-Sheppard set up the Flower Shop label, putting out records from the likes of Elevate, Ligament, and Swervedriver.

He also began recording a year later as Sophia. Sophia sounded nothing like his prior band. Instead of ear-busting and grating, they were low key and introspective.

With the help from other Flower Shop artists - Graham Miles (Elevate), Dan Mulligan (Oil Seed Rape), Tim Cedar (Ligament) and James Elkington (Elevate) - he recorded 1996's 'Fixed Water'. Featuring the single 'Are You Happy Now', the album received favourable comparisons to Neil Young and Sparklehorse.

Two years later, 'The Infinite Circle' followed, receiving just as much critical praise as the debut.

In 2001 Sophia released a live album 'De Nachten'. The album was recorded during 2 festival appearances in Belgium and Holland and features 4 new songs and a John Lennon cover.

In January 2004 Sophia released their third studio album 'People Are Like Seasons'. The album was released by City Slang/EMI and marks the first Sophia release for a major label. Thanks to the massive airplay for its first single 'Oh my love' the band reached a whole new audience. This resulted in chart succes for the album in several European countries (highest entry was no. 8 in Belgium). The band - of which the main members are now Robin Proper-Sheppard (vocals, guitar), Jeff Townsin (drums), Will Foster (keyboards) and ex-Swervedriver mainman Adam Franklin (guitar) - did a very succesful tour of Europe in the first half of 2004.

In the Fall of 2004 a rarities cd was released called 'Collections:One'.

Most of 2005 and 2006 were spent writing and recording new songs for the fourth studio album 'Technology Won't Save Us', which was released in October 2006. The album was preceded by the single 'Pace'.

April 2009 saw the release of the fifth Sophia album 'There Are No Goodbyes', with the title track being the first single from the album. The album features a duet with Astrid Williamson and has been described as the darkest Sophia album yet.




Early 2000 marked the album release of another Proper-Sheppard fronted band: The May Queens.
The band has the same line up as Sophia, but plays music that could be described as a combination of punk, rock and noise.
It's unlikely that there will ever be a second May Queens album.