24.06.2011 - EXCLUSIVE ACOUSTIC + STRING QUARTET FESTIVAL GIG
Sophia will be playing an exclusive German show this summer at the singer/songwriter festival TÜBINGEN LAUSCHT. Robin will bring his acoustic guitar and a string quartet. It's a unique chance to witness Sophia in the line-up that recorded the 'The Valetines Day Session' which was added as a limited edition bonus disc to the 'There Are No Goodbyes...' album.
The festival takes place on July 23 in Tübingen near Stuttgart. Check out the festival website for the full line up and tickets.



23.11.2010 - AT HOME WITH SOPHIA... FALL TOUR STARTS AGAIN TONIGHT
Robin has packed his suitcase and his acoustic guitar and will start the second part of the 'At Home With Sophia' solo tour tonight in San Sebastian, Spain. After a small Spanish tour he will head over to Germany until mid December. Check out all the tour dates below:
Nov. 23 '10: Doka, San Sebastián (ES) (Robin solo) www.doka-antzokia.com
Nov. 24 '10: Pub Cachan, Santiago de Compostela (ES) (Robin solo) www.autorretratos.es
Nov. 25 '10: Sonora festival (Teatro da Cidade Universitaria), Vigo (ES) (Robin solo) sonora.uvigo.es
Nov. 26 '10: Primavera Club (Nasti), Madrid (ES) (Robin solo) www.primaverasound.com
Nov. 27 '10: Primavera Club (Casino L'Aliaça Del Poblenou), Barcelona (ES) (Robin solo) www.primaverasound.com
Dec. 4 '10: Schloss Hartberg (Rittersaal), Hartberg (AT) (Robin solo) www.hartberg.at
Dec. 5 '10: Theater an der Gumpendorfer Straße, Wien (AT) www.dastag.at
Dec. 7 '10: Club Manufaktur, Schorndorf (DE) (Robin solo) www.club-manufaktur.de
Dec. 8 '10: Rosenkeller, Jena (DE) (Robin solo) www.rosenkeller.org
Dec. 9 '10: Mau Club, Rostock (DE) (Robin solo) www.mauclub.de
Dec. 11 '10: Schlachthof, Kassel (DE) (Robin solo) www.schlachthof-kassel.de
Dec. 12 '10: Grend, Essen (DE) (Robin solo) www.grend.de
Dec. 13 '10: Karlstorbahnhof, Heidelberg (DE) (Robin solo) www.karlstorbahnhof.de
Dec. 14 '10: Walhalla Spiegelsaal, Wiesbaden (DE) (Robin solo) www.walhalla-studio.de
Dec. 15 '10: Exhaus, Trier (DE) (Robin solo) exhaus.de

If you're attending one of these gigs, you can make a request by sending an e-mail to athomewithsophia [at] theflowershoprecordings [dot] com. Also don't forget to write down your e-mail address at the merchandise stand after the gig. All gigs will be recorded and you will be warned as soon as they're available as a free download.



12.08.2010 - AT HOME WITH SOPHIA... LIVE RECORDINGS + FALL TOUR
A small update: all of the live recordings of the At Home With Sophia tour are currently being mixed. So fingers crossed they'll be showing up soon.

In the meantime Robin is putting together more "At Home" shows for the Fall, so be on the look out for a town near you. The idea is to finally get to Spain, Scandinavia, France and some more places/venues that wanted to be part of the first tour, but that couldn't done back then (think Italy, Switzerland, Germany, Belgium,...). Stay tuned for the actual tour dates.

More good news: Robin is recording a few more songs for the "At Home With Sophia Sessions", so keep an eye on the Sophia Bandcamp page!

After all of this we should finally see the release of the 'Collections:Two' album.



11.06.2010 - DRIFTING
I decided today I'm gonna be a better person...

Portugal: The song. And the destination.

So I just bought a ticket back to Portugal. Not sure where I'm going yet. Or where I'm staying. But I got my ticket and I'm gettin' on a plane.

I figured I still have so much work to do - Thousands of email addresses to input and over 40 concerts to "mix" (well how much mixing does one microphone take?) as well as songs to write and thoughts to think and daydreams to dream. (Daydreaming is very time-consuming, don't you know?)

And, well, since I don't actually have a home at the moment I might as well go somewhere lovely and, hopefully, inspirational, right?

It's strange to think that it was only two years ago that I wrote Portugal and even more strange to think that There Are No Goodbyes was released just over a year now. Especially when I feel like those songs are still such a part of me... I remember Valentines Day in Vienna like it was yesterday.

OK enough nostalgia for me. I've got to get packing. And need to do some shopping. For some reason, I don't think my current wardrobe (consisting entirely of stage-attire: black shoes, black shirts and black trousers) is ideal summer wear?

Hmmm... I think a pair of black flip-flops should do the job nicely. What do you reckon? Black shirt, black trousers, black flipflops? Perfect. Beach here I come...

Everything's lovely.
Yeah everything's fine.
I've got more than I need most of the time.
But still something seems missing
Like there's a crack inside...
If we could just get away
And leave what divides us behind

Before I go though, I just want to thank you once again for your support during the tour. To be honest, I'm still finding it all quite overwhelming. There was so much joy and sadness and laughter and, well, I don't know... Togetherness? Togetherness sounds a little too hippy for a punk rock muthafucker like me but, well, we all have our soft side, right? But from the bottom of my heart thank you. It was just wonderful. Maybe a little too intense sometimes. Even for me. But hey, that's life. And life can be a little too intense sometimes, right? Alive. That's it's. I felt alive. And, again, I found it all rather wonderful. So thank you.

And to all my fellow 'Alivers' please give me just a little more time to get on top of all these emails (I'm trying to reply to all of them) and email addresses and recordings. I'll get there though, I promise.

Take care and I hope to see you all again real soon,

Robin



25.05.2010 - ADAM FRANKLIN COVERS SOPHIA + RELEASES NEW ALBUM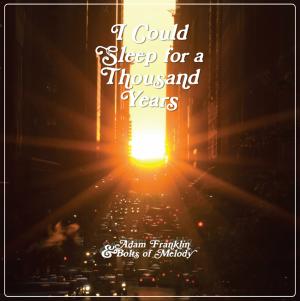 Adam Franklin (of Swervedriver fame and long time member of the Sophia Collective) has completed his third solo album, this time under the 'Adam Franklin & Bolts Of Melody' moniker. 'I Could Sleep For A Thousand Years' is set for release June 29th on Second Motion Records.
There's a dedicated mini-site right here that has more information and a free download of one of the album tracks.

Building up to the release of the album, Adam was asked to do a 'Rabid In The Kennel' radio session, hosted by Jack Rabid of The Big Takeover, on BreakThruRadio.com and online at rabidinthekennel.com. For this session Adam played a cover of Sophia's 'Dreaming' off the 'There Are No Goodbyes' album. The raw mix we've heard here at Sophiamusic.net sounds really excellent, so don't miss it. The whole six song acoustic session will be available as of June 9th.

Final bit of info: Adam will be the guest editor of Magnet magazine online that last week of June, when the album comes out.



13.04.2010 - AT HOME WITH SOPHIA... THE ACOUSTIC SESSIONS
While rehearsing for the upcoming "At home with Sophia..." solo-acoustic tour, Robin made a series of recordings which are now available for free download at sophia.bandcamp.com. Simply hit the 'download' button and fill in your e-mail address. You can also click each track for some more information. This way you will learn that track no. 5 is a cover by by Swedish songwriter Anna Ternheim. Here's some more words from Robin about the sessions:

All the songs are recorded in my living room on one microphone.
Sometimes you can hear cars driving by, children playing or birds singing in the background. I like this.

I think the recordings are really quite good but please understand the sound does vary depending on the time of day, the weather and the general moodiness of the performer while recording.

I hope you enjoy them and more to come.

And please feel free to make any song requests by sending an e-mail to: athomewithsophia [at] theflowershoprecordings [dot] com

See you soon.

Robin






14.03.2010 - AT HOME WITH SOPHIA... TOUR DATES
Robin Proper Sheppard's solo acoustic 'At Home With Sophia' tour is coming along quite nicely. A couple more dates might be added in the next few days or weeks, but we're already posting all the current dates below this news item. Countries on the schedule so far are Italy, Belgium, Germany, Switzerland, Luxemburg, Austria, Poland and the Czech Republic.

As a preparation for the tour Robin has been playing through all of the Sophia albums, and decided to turn these rehearsals/recordings into a little side-project for the tour: 'At home with Sophia... The Acoustic Sessions'.
More details soon but Robin will be making all the songs available for free download as he records them. You can even make your requests now by sending an e-mail to athomewithsophia [at] theflowershoprecordings [dot] com

Apr. 23 '10: Covo, Bologna (IT) (Robin solo) www.covoclub.it
Apr. 24 '10: Twiggy, Varese (IT) (Robin solo) twiggyclub.wordpress.com
Apr. 26 '10: sPAZIO211, Torino (IT) (Robin solo) www.spazio211.com
Apr. 27 '10: Magnolia, Milano (IT) (Robin solo) www.circolomagnolia.it
Apr. 28 '10: Teatro Furio Camillo, Roma (IT) (Robin solo) www.teatrofuriocamillo.it
Apr. 29 '10: Officine Cantelmo, Lecce (IT) (Robin solo) www.coolclub.it
Apr. 30 '10: La Taverna, Vasto (IT) (Robin solo) www.associazioneculturaleagora.it
May 02 '10: 4AD, Diksmuide (BE) (Robin solo) www.4ad.be SOLD OUT
May 03 '10: Les Aralunaires @ église Saint-Donat, Arlon (BE) (Robin solo) nuits.losange.net
May 04 '10: Cultuurcentrum, Mechelen (BE) (Robin solo) www.ccmechelen.be
May 05 '10: Kunstencentrum België, Hasselt (BE) (Robin solo) www.kunstencentrumbelgie.com SOLD OUT
May 06 '10: White Rabbit, Freiburg (DE) (Robin solo) white-rabbit-club.de SOLD OUT
May 07 '10: Kulturladen, Konstanz (DE) (Robin solo), with Agnes Milewski www.kulturladen.de
May 08 '10: Festung, Traunstein (DE) (Robin solo) www.cafe-festung.de
May 09 '10: Jubez, Karlsruhe (DE) (Robin solo) www.jubez.de SOLD OUT
May 10 '10: Hafenkneipe, Zürich (CH) (Robin solo) www.hafenkneipe-zh.ch SOLD OUT
May 11 '10: Café Central, Weinheim (DE) (Robin solo) www.cafecentral.de
May 12 '10: Dqliq, Luxembourg (LUX) (Robin solo) www.dqliq.com SOLD OUT
May 13 '10: Rex Am Ring, Köln (DE) (Robin solo) www.rex-koeln.de
May 14 '10: Steinbruch, Duisburg (DE) (Robin solo) www.cafe-steinbruch.com SOLD OUT
May 15 '10: Yellowstage @ Hazelwood Studios, Frankfurt (DE) (Robin solo) yellowstage.wordpress.com
May 16 '10: A Month of Sundays @ Nbi, Berlin (DE) (Robin solo) www.myspace.com/sundaysundays SOLD OUT
May 18 '10: Kampnagel, Hamburg (DE) (Robin solo) www.kampnagel.de SOLD OUT
May 19 '10: Weltruf, Kiel (DE) (Robin solo) www.weltruf-kiel.de
May 20 '10: Lagerhalle, Osnabrück (DE) (Robin solo) www.lagerhalle-osnabrueck.de
May 21 '10: MS Treue, Bremen (DE) (Robin solo) www.treue-bremen.de
May 22 '10: Paris Syndrome (Black Box), Leipzig (DE) (Robin solo) www.myspace.com/parissyndrom SOLD OUT
May 23 '10: Pod Minoga, Poznan (PL) (Robin solo) www.myspace.com/podminoga
May 24 '10: Firlej, Wroclaw (PL) (Robin solo) www.firlej.wroc.pl
May 25 '10: Dobeska, Praha (CZ) (Robin solo), with Aran Epochal www.divadlodobeska.cz
May 26 '10: Schottenstift, Wien (AT) (Robin solo) www.schottenstift.at SOLD OUT
May 27 '10: Kranhalle, München (DE) (Robin solo) www.feierwerk.de
May 28 '10: Muz Club, Nürnberg (DE) (Robin solo) www.musikzentrale.com
May 29 '10: Garage (kleiner club), Saarbrücken (DE) (Robin solo) www.garage-sb.de SOLD OUT
May 30 '10: Fachwerk, Münster (DE) (Robin solo) www.gievenbeckerleben.de SOLD OUT
May 31 '10: Muk, Giessen (DE) (Robin solo) www.muk-giessen.de
Jun 01 '10: Societätstheater, Dresden (DE) (Robin solo) www.societaetstheater.de SOLD OUT
Jun 02 '10: Heimat, Regensburg (DE) (Robin solo) www.heimat-regensburg.de
Jun 04 '10: Kiff, Aarau (CH) (Robin solo) www.kiff.ch
Jun 05 '10: Le Bourg, Lausanne (CH) (Robin solo) www.le-bourg.ch
Jun 06 '10: 1. Stock, Basel (Münchenstein) (CH) (Robin solo) www.schoolyard.ch



11.02.2010 - VITO RELEASE 'MONUMENT' AND DO BLITZ TOUR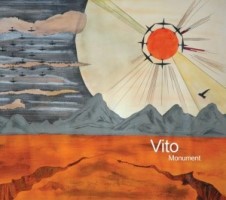 Three years on from the release of their debut album 'Make Good Areas Disturbed', Vito, the 5 piece from Cardiff, have released their second album 'Monument' on the Flower Shop Recordings label run by Sophia's Robin Proper-Sheppard.

Produced by Charlie Francis, 'Monument' explores the band's personal philosophy that "everything you do should be done, as if it is the only opportunity you will get to do it", which is reflected in the meticulous care Vito have taken, writing and recording over the past three years.

You can buy a signed copy of the album on vito.bandcamp.com or get it digitally on iTunes.

You might remember that in 2006 Vito toured throughout Europe, not only as support, but also as backing musicians for Sophia. Now Vito's back with a short European tour to celebrate the release of 'Monument':
Feb 12 - Clwb Ifor Bach, Cardiff (UK)
Feb 20 - Hafen 2, Offenbach (DE)
Feb 21 - Café Video, Ghent (BE)
Feb 23 - Zucker Club, Bremen (DE)



04.02.2010 - AT HOME WITH SOPHIA... ACOUSTIC TOUR
Robin Proper-Sheppard will be heading out in the Spring for an extensive acoustic tour called 'At Home With Sophia'.

In May 2010 three weeks of gigs have been booked in Germany alone. More gigs in other countries will be added in late April and early June. The gigs will be in very small venues (100 -150 capacity) and ticket prices should be very low as well.

More information will follow but the idea is to create an atmosphere that is, hopefully, as intimate as a living room (hence the "At home with...") for people to come and hear the songs of Sophia much as they were originally written. Just to make it clear, these are going to be solo acoustic shows. No strings, no computers, no River Song. Sorry if you wanna rock out. There's always the next album/tour, right?

And fingers-crossed, the anticipated Collections:Two album might be available by then as well.

The actual tour dates will follow soon...