03.06.2015 - SOPHIA ADDED TO 'INCUBATE' FESTVAL LINE-UP
Sophia is one of the latest additions to the line-up of the Incubate festival.

Incubate is held from 14 to 20 September 2015 in over 20 locations in Tilburg (NL). Incubate is a festival exhibiting a diverse view on indie culture as a whole, including music, visual arts, film and contemporary dance. It brings more than 200 cutting edge artists in an intimate context.

Sophia is scheduled to play on Sunday the 20th at the Concertzaal of the Theaters Tilburg. Some of the other bands performing that day are Neneh Cherry, Great Lake Swimmers, Ful + The Knife, Surfer Blood, Giant Sand and The Black Heart Rebellion.



31.05.2015 - SOPHIA TO PLAY 'BRUIS' FESTIVAL IN MAASTRICHT (NL)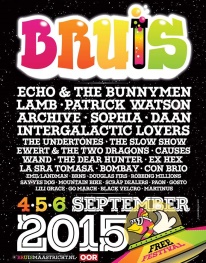 We've got some very good news, in case you wanted to see Sophia at 'Into The Great Wide Open' but were unable to score tickets for the now sold-out festival.

Sophia will also play at the Bruis Festival in Maastricht (NL). This is yet another festival with an amazing line-up. Sophia will play on the first day of the festival September 4th. They will be joined by Paon, Ex Hex and the amazing Echo & The Bunnymen.

And to make it even sweeter: Bruis festival is completely free!











31.05.2015 - SOPHIA TO PLAY 'INTO THE GREAT WIDE OPEN' FESTIVAL IN VLIELAND (NL)
Hello everyone,

Very excited to say things are starting to heat up in Sophia-land. (Finally!)

First announcement is that we will playing Into The Great Wide Open Festival (Vlieland, NL) on 5/9/2015. Some excellent bands playing the festival that you have to try and check out if you can: Savages, Patrick Watson, Torres, Jacco Gardner, Ryley Walker, Natalie Prass. So I'll say it again… Very excited! It's going to be a great weekend!

Robin